Can I customize the display of my data from different instruments?
Yes, this can be done with Instrument Specific Settings.
Instrument Specific Settings
In FCS Express 7 or later, you can customize range and scale settings for scatter and fluorescence parameters from any instrument and FCS file format you use. Instruments are recognized by an Identification Rule based on any keyword from the data set but usually the $CYT keyword which identifies the instrument. By default, the following cytometers have instrument specific settings associated with them in FCS Express:
Accuri C6
CytoFLEX
FACScan
MACSQuant
Summit
BioRad ZE5 and S3
Fluidigm - Helios and XT
Cytek - SpectroFlo
Sony - SA3800
Instrument specific settings are accessed via File tab>FCS Express User Options>Data Loading>FCS File Options>Instrument Specific Settings. Please see the full documentation on editing, adding, and removing instrument specific settings in the FCS Express manual.
A range of default instrument specific settings are already configured by default (see below). Please contact support@denovosoftware.com if you would like to see your instrument included as a new default.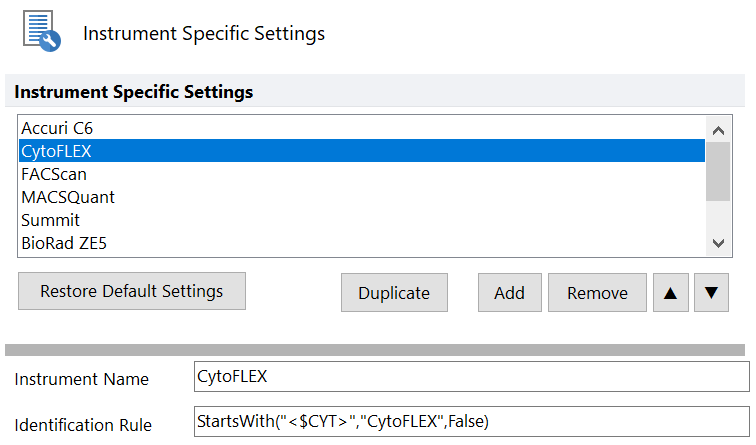 Ranges may be set to automatic, percentile, or manually-defined minimum and maximum (below) for both Scatter and Fluorescence Parameters.

Scaling may be set to automatic or a manual selection with defined division factors.

tags: instrument-specific settings