Clinical Edition Overview
De Novo Software is listed as a medical device manufacturer with the FDA.  FCS Express Clinical Edition is the first third-party flow cytometry data analysis software listed with the FDA.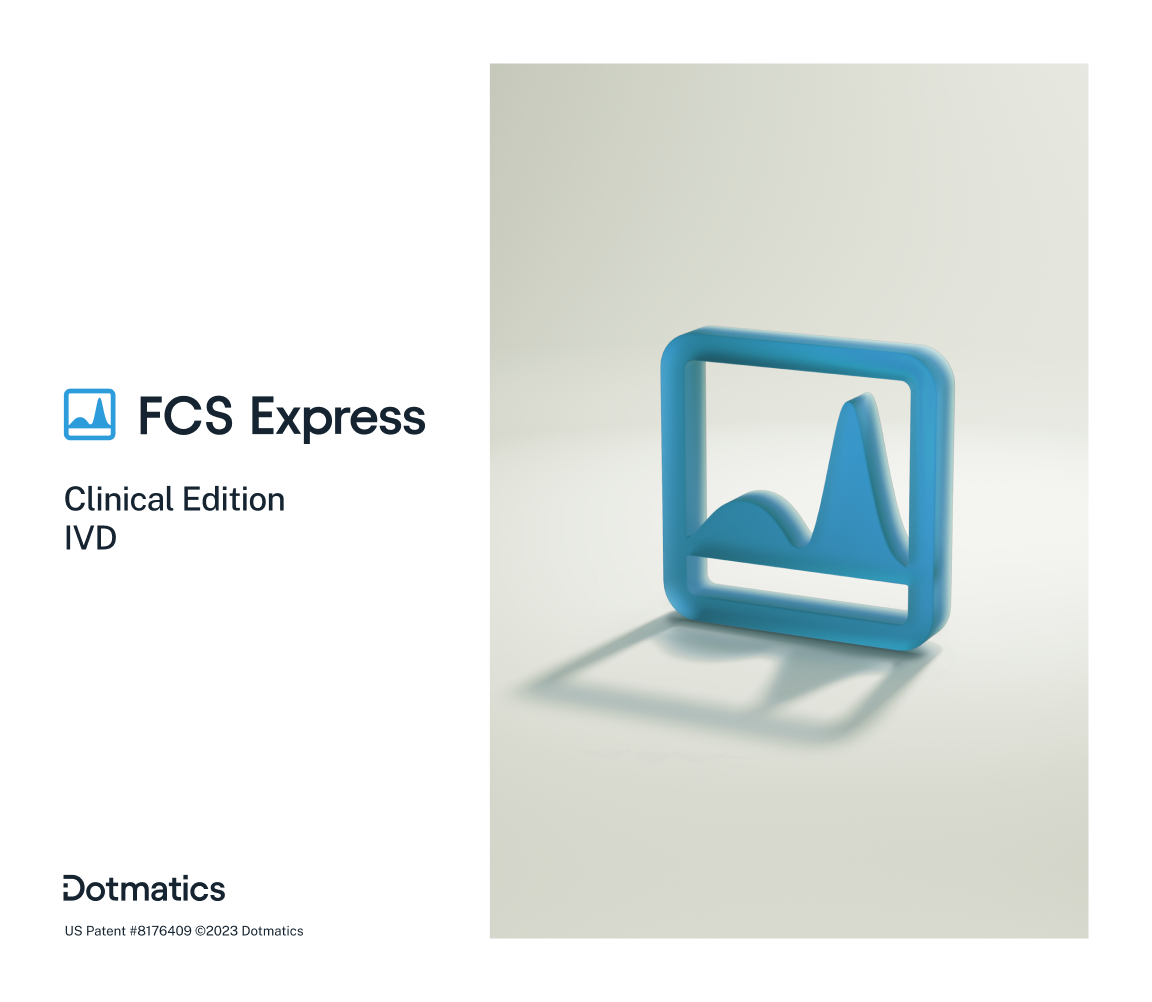 What is FCS Express Clinical Edition?
When it comes to handling data that is going to be used as part of a clinical evaluation, it is critical that you can rely on the results generated by your instrument and software. One of our competitors recently wrote:
"In the software biz, you release first, and then try to fix before most users catch on. Its like overbooking airplanes, a sleazy practice that is the only economical way to do business."
De Novo Software does not follow this philosophy and has always maintained a high commitment to quality. With our new clinical edition, we are reinforcing that commitment and have put policies and procedures in place to satisfy the strictest requirements possible.
The FDA Quality Systems Regulations described in 21 CFR § 820 provide a comprehensive set of guidelines describing all aspects of the development of medical devices. These guidelines are extremely rigorous, and are designed to help promote the development of high quality medical devices for use in patient treatment and diagnosis. All procedures involving the production of FCS Express CE have been audited by an independent validation expert and conform to the pertinent 21 CFR § 820 requirements. FCS Express IVD is listed with the FDA as a medical device and is subject to all federal regulations that pertain to our class of devices. We were the first third party software package to be able to offer this level of rigor and quality in the development of our software and are widely considered to be the industry leaders in clinical flow analysis.
Why Use FCS Express Clinical Edition
When acquiring flow cytometric data for clinical samples, most clinical laboratories prefer to use a cytometer which has been approved by the FDA for clinical use. This ensures that the cytometer that you use has been through the rigorous testing and validation required by the FDA. Your analysis software should also be suitable for IVD use. The FDA approved software provided by the cytometer manufacturer is often optimized for data acquisition, and analysis and reporting is an afterthought. Today's modern clinical laboratories require advanced analysis features with powerful Quality Control features, and a means to easily export results to downstream systems. For the first time ever, you can have the best of both worlds: A highly optimized, easy-to-use data analysis software combined with the rigor and quality expected from a clinical product.
In addition, by using FCS Express CE, your validation requirements will be minimized. Just like you have to perform some assay validation even when using an FDA approved flow cytometer, you will still have to validate your own particular analysis with FCS Express CE. However, you do not have to validate every possible feature that could be used, as you would with a data analysis product that is not for in-vitro diagnostic use, according to FDA guidelines. You can also trust that every release of FCS Express will conform to the same high quality demanded of a medical device. In the unlikely event that there are any problems, you can rely on the fact that we are legally obligated to fix them and notify customers as soon as possible. These are not requirements that De Novo Software takes lightly, and we have put the policies and procedures in place to make sure that FCS Express can handle all your analysis demands.
Key Requirements for IVD Use
The FDA Quality Systems Regulations described in 21 CFR § 820 are extremely detailed and complex, but there are several overriding principles.
A documented commitment to quality during all phases of the software development process
De Novo Software has established rigorous documented procedures for the development of FCS Express CE. Testing and validation occur at many stages in the development process and the impact of any modification on the quality of existing functionality is always considered and tested for. Before any release, FCS Express CE undergoes days of testing in-house testing as well as an extended beta test period with other clinical laboratories and high volume users. Over 500 individual test cases are performed and results are documented. We only release the a new version when every single test passes. Statistical results are particularly checked in many different ways in order to ensure that changes have not impacted the calculations. These extensive testing and evaluation procedures add significant overhead to the software development process, but it is the only way to ensure that the software that the clinical lab is using generates correct results for every patient.
Immediate notification of clients should any critical bugs be found
No matter how strict your quality procedures, it is possible to make mistakes. The FDA recognizes this possibility and mandates strict procedures for handling problems in clinical software that has been released. Every bug report is evaluated for its potential to impact on our clinical customers. If it is determined that the bug can impact patient care a notification is immediately sent to all customers describing the problem and any potential workarounds. Depending on the severity of the problem, and emergency bug fix release may be made. Customers are kept up to date and informed about the status of these issues every step of the way.
Internal and External reviews of the software development process
De Novo Software performed periodic scheduled reviews of all quality procedures and documentation. Changes to procedures that have occurred since the latest review period are re-evaluated in light of the quality implications. An independent auditor inspects all documentation and procedures once per year to ensure their completeness and quality. In addition, the FDA may come at any time and perform their own audit.
Features Found in FCS Express Clinical Edition