High Content Tools for Flow and Image Cytometry Data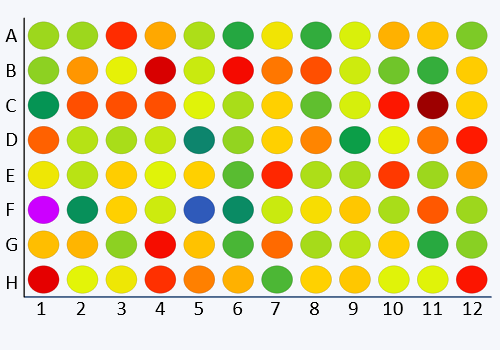 High Content For Flow Cytometry Data Analysis
FCS Express continues a legacy of innovation in the field by providing analysis capabilities for multiwell plate format flow cytometry data from the following instruments:
Bio-Rad ZE5
BD HTS
Guava
Coulter Quanta
MACSQuant
Hypercyte
Sony
Accuri
The imported data can be displayed on a per-well basis or as an entire plate in Heat Map format.
Index Sorting is also supported for:
Influx (BD Biosciences)
Summit Software (Beckman Coulter)
Diva (BD Biosciences)
Chorus (BD Biosciences)
High Content for Image Cytometry Data Analysis
Data for heat maps can be generated from many manufacturers such as Cell Profiler, Nexcelom Celigo, Thermo ArrayScan, and more Image Data Format Compatibility is being added all the time.
Heat maps allow the user to:

Plot any statistic on any parameter.
Represent different files, statistics, or parameters simultaneously with multiple Heat Maps, Heat Map Overlays, or a Heat Map Radius (right).

Apply any kind of gate to Heat Maps, including well gates; wells can then be individually examined as any other type of plot that FCS Express supports.
Work with High Content Screening or High Content Analysis data sets.
Complete control over 

plate formatting and displays

.