FCS Express is the industry leader in Laboratory Information System integration of flow cytometry data.  Instead of manually entering values from an analysis into the LIS, wasting valuable time and money, FCS Express will transfer the data automatically.  Many types of information can be transferred, including but not limited to:
Demographic information
Statistics
Classifications
Keywords
Images of plots
Saved or published analyses
Raw listmode data
Images
Text boxes
PDF files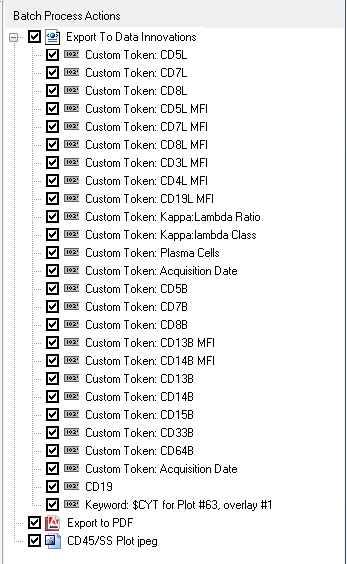 The staff at De Novo Software will work with your IT staff to package the exported data into a format that is easiest for them to use. We can talk directly to the LIS, or make an intermediate format that the IT staff can import. De Novo Software has experience with a wide variety of export formats (custom formatted text, XML, custom binary formats, database) and communication layouts  (file based, SFTP, web services).  FCS Express also allows you to export the contents of a text box; physicians \examining cases can type notes directly into the layout and have these comments to the LIS. De Novo Software has the expertise and experience to integrate with your LIS, saving time and minimizing transcription errors.
FCS Express can already interface with a wide variety of LIS systems, such as:
| | |
| --- | --- |
| | and many other systems have been developed in house at the clients site |
If the LIS you are using is not in the list above, please contact us. We have extensive experience creating custom LIS integration solutions to meet the requirements for our clients.
Import Information from Your LIS
FCS Express can import data from your LIS. FCS Express can pull in patient demographics from the LIS directly into your analysis. The LIS can point FCS Express where to find the raw listmode data files, which eliminates the need for the technician to hunt through the file system for it.  The LIS also can provide the sample type information, so FCS Express loads the proper analysis file. This functionality further increases automation and reduces errors in the clinical laboratory.