FCS Express Image Cytometry
A Flow Cytometry Analysis Environment for Image Cytometry Data
Digital Microscopy and Image Cytometry are rapidly evolving technologies in research, high-content screening and drug discovery. However, with imaging managing your analysis results and images is a daunting task...
Managing images, multi-parametric data sets, and image analysis can be overwhelming. This is particularly the case when drilling down to cell level data and reviewing information for single cells.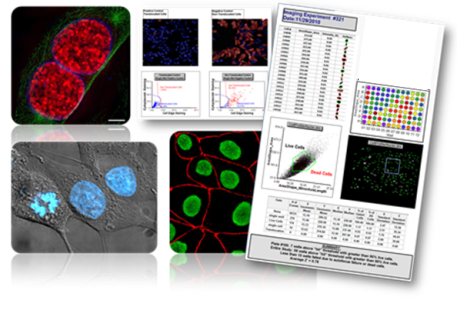 De Novo Software offers a dedicated image analysis and reporting package for Image Cytometry to improve your workflow and results while giving you access to single cell results even with high content screening data.
Are you:
Using microscopy and generating images and extensive numerical data with no link to your original images?
In need of additional reporting tools for Amnis data?
Tired of managing the multi-parametric results in separate Excel™ spreadsheets?
Frustrated with cell-level results that require working only with averages per well or condition?
Wasting a lot of time cutting pasting final results and images into PowerPoint™?
Ready to leverage the power of sub-population image analysis in Image Cytometry data and facilitate report generation?
In need of 21 Part 11 CFR compliance for you Image analysis data sets?
FCS Express Image Cytometry Brings Everything Together in One Easy Package...