Partnership: Thermo Scientific

Company Profile
Thermo Fisher Scientific Inc. (NYSE: TMO) is the world leader in serving science. Our mission is to enable our customers to make the world healthier, cleaner and safer. With revenues of nearly $11 billion, we have approximately 37,000 employees and serve customers within pharmaceutical and biotech companies, hospitals and clinical diagnostic labs, universities, research institutions and government agencies, as well as in environmental and process control industries. Whether our customers are accelerating life sciences research, solving complex analytical challenges, improving patient diagnostics and therapies or increasing productivity in their laboratories, we are here to support them.
Collaboration
De Novo Software and Thermo Fisher Scientific have recently announced a distribution agreement where new purchases of the Attune NxT Flow Cytometer will be provided with a free one-year license of FCS Express 7 (all new instrument purchases since November 1st 2020 are eligible). The collaboration has also enabled the teams and De Novo Software and Thermo Fisher Scientific to work more closely together ensuring joint customers a seamless experience moving from acquisition to results.
Support for the BigFoot Spectral Cell Sorter data sets is here!
Data files from Bigfoot Spectral Cell Sorter are fully compatible with FCS Express 7. A future update to FCS Express will enable seamless and default visualization of Bigfoot data sets. Until that update, users may simply create a new Instrument Specific Setting for the Bigfoot cytometer so everytime data files are loaded into FCS Express, the data will appear exactly as it did at acquisition. Follow the instructions in the drop down below to set up you Bigfoot instrument specific settings to get off and running today.
Choose to export your data files from the Bigfoot acquisition software in Third Party Compatibility Mode and set up your FCS Express Instrument Specific Settings as outlined below. Once completed, data files opened in FCS Express will be visualized as they did at acquisition.
Open FCS Express.
Click on the File tab>Options>Data Loading>FCS File Options>Instrument Specific Settings.
Click on Add>General.
Label the Instrument Name as: Thermo Big Foot 3rd Party Export
Set the identification rule to: ("<$CYT>" = "Bigfoot") and ("<isfloatscaled>" = "True")   - simply copy and paste the bolded text into the field including the brackets.
Set the Keyword to Use as Parameter Name to Name and Stain.
In the Scatter Parameters Section>Division Factor, choose the radio button for Scale to maximum value and choose 512 from the drop down.
In the Fluorescence Parameters Section>Division Factor, choose the radio button for Scale to maximum value and choose 262144 from the drop down.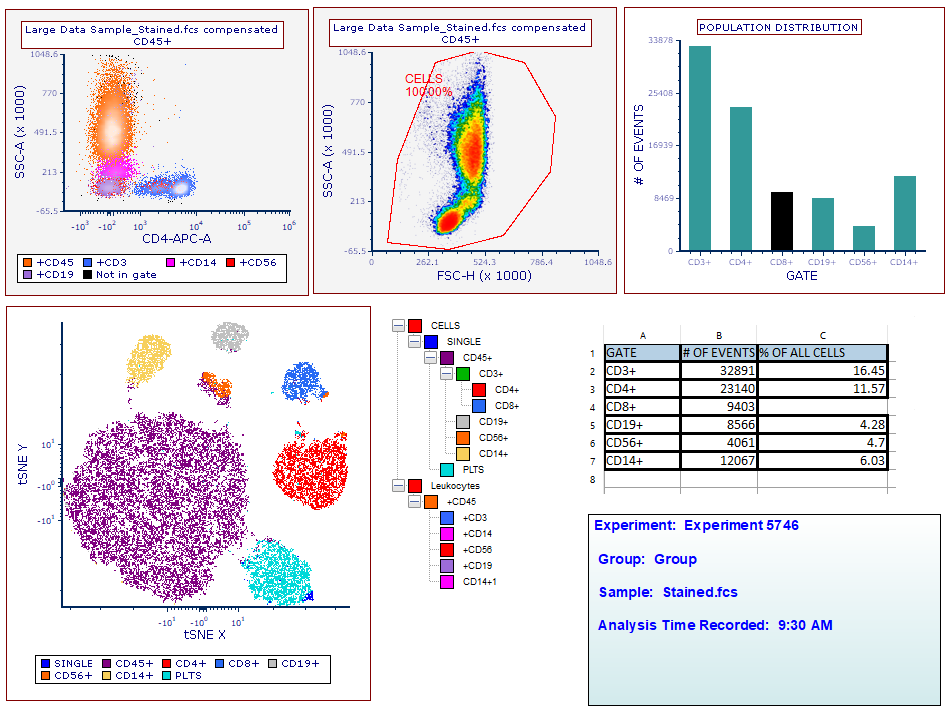 Phenotyping of cells is a common application in Flow Cytometry. FCS Express makes it easy to move from acquisition to a final result with your cell phenotyping data from the Attune cytometer with was to conveniently report all cell type subsets, calculate custom statistics, and display data in bar charts for visualization.
Press Release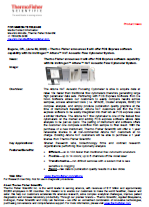 Eugene, OR., (June 30, 2020) – Thermo Fisher announces it will offer FCS Express software capability with its Invitrogen™ Attune™ NxT Acoustic Flow Cytometer System.
The Attune NxT Acoustic Focusing Cytometer is able to acquire data at rates 10x faster than traditional flow cytometers therefore generating large high parameter data sets. Partnering with FCS Express Software from De Novo Software allows our customers to easily compare results across samples, access advanced tools ( i.e. SPADE, Cluster analysis, tSNE) for complex analysis, and simply produce publication quality graphics at the time of instrument installation. Attune NxT customers will find the FCS express software to be easily integrated into their lab as FCS express uses a similar interface. The Attune NxT flow cytometer is one of the fastest flow cytometers on the market and adding FCS express software allows data analysis to be just as quick. The pairing of instrument and software offers the customer one complete workflow from sample to final result. With the purchase of a new instrument, Thermo Fisher Scientific will offer a 1 year renewable license to all non-commercial Attune NxT customers at no charge. Existing Attune NxT customers will be able to purchase a 1 year license from Thermo Fisher Scientific.