Collaboration: Spherotech

Company Profile
Spherotech was established in 1992 to manufacture and supply uniform monodispersed micro and nanoparticles for biomedical applications, diagnostics and drug discovery. Their headquarters are located 25 miles north of Chicago, in Lake Forest, IL.
As a global supplier of micro and nanoparticle solutions, their skilled scientists can manufacture high quality polystyrene fluorescent, paramagnetic, ferromagnetic and color dyed particles. In addition, they prepare gold nanoparticles for diagnostic applications.
Collaboration
De Novo Software and Spherotech have recently collaborated to provide FCS Express analysis layouts for easy analysis and reporting of Spherotech's 6 and 8 peak calibration particle kits. The FCS Express layouts allow users to easily load data acquired from any cytometer, adjust the layout to the specific configuration of the cytometer, and easily report all linearity results at a click. The layouts can then be saved so they are specific to your own cytometer configuration and used over and over again greatly simplifying analysis by eliminating the need to use multiple software packages or Excel spreadsheets.
Learn More about Spherotech's line of Flow Cytometry Products
Analysis Template Downloads and Application Examples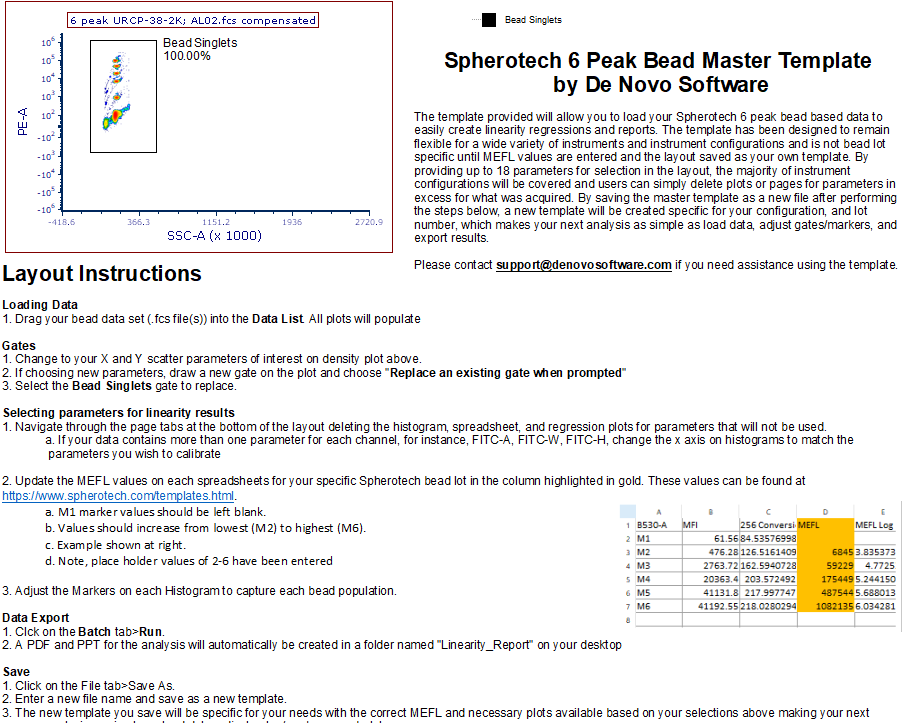 The SPHERO™ Rainbow Calibration Kit and Rainbow QC Kit are designed to simplify the routine calibration of flow cytometers. FCS Express makes analysis and reporting even easier with our free to use templates that can easily be adjusted for data acquired on any cytometer. 
Download the Linearity Six Peak Layout for use in FCS Express V7 or the latest version of V6 (6.06.0040) to start getting results with FCS Express today!
Don't have FCS Express yet? Try today with the free 30 day demo.
Joint Webinar
Flow Cytometry Bead Based Assays to Calibrate and Produce
High Quality and Reproducible Results