Working with Amnis derived image cytometry data
FCS Express Image Cytometry and PLUS versions are fully compatible with data and images exported from Amnis IDEAS 6.2 and previous software. You will now have the ability to seamlessly move between .DAF files and images in any plot type within FCS Express for quick and easy reporting, customized statistics, cell cycle modeling, and more.
Please see our Working with Amnis Data knowledge base section to learn how to export your data from the IDEAS software and view some of our newest applications examples below.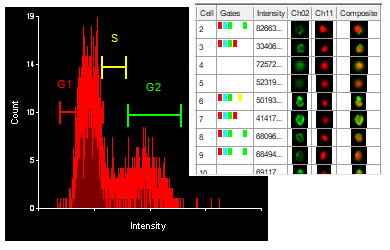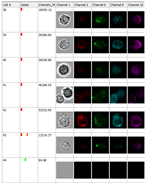 Data from the Amnis IDEAS software package can be exported for use in FCS Express. Use FCS Express to navigate between plots and images in real time, create custom statistics, and export directly to PowerPoint for quick and easy presentation of your data.
See for yourself while learning FCS Express Image Cytometry exploring the layout using the free FCS Express Reader: Image Cytometry Data in FCS Express or download a PowerPoint version: Image Cytometry Data in FCS Express PowerPoint.